Bikepacking the Arizona Trail
Below is an overview of what this trip is about and what it means to me and my fellow riders. Anything underlined is a clickable link if you wish to educate yourself more on the topics. For a full rundown of my bike setup and bike packing gear, please click here. Thanks a ton for showing interest in our Arizona Trail journey!
The Backstory
In February of 2016, REI posted THIS video about ultra endurance cyclist Lael Wilcox and her Southbound attempt at bikepacking the Arizona Trail. For those unfamiliar with bikepacking, it's basically just backpacking but on your bike. It's a self supported style of bicycle touring, often in remote places. All of your gear (tent, sleeping bag, clothes, spare bike parts) as well as food and water are mounted to your bike of choice and you set off on a dirt road or trail. This particular trail, the Arizona Trail, is an 800 mile national scenic trail that traverses the length of Arizona vertically (see map above).
I've always been drawn to the state of Arizona, visiting for the first time around age 10 with my mother after a school project on Native American Indians sparked our interest. After being there, we totally fell in love with the state and shortly after, my family purchased a time share condo in the town of Sedona. I've been going back to my "second home" for the past 16 years. Admittedly, with all of my time spent exploring Arizona, I had never heard of the Arizona Trail until seeing that REI video. It immediately caught my attention, and after I was done watching, I knew what I had to do: I had to ride the trail!
Riding a bike was something I always enjoyed and frequently did growing up. I also got into backpacking in college and found it to be a great way to explore new places and stay out in the wilderness. Why not combine those two things I loved, and do it in a state that I adored? Sounded like the perfect way to experience new sections of Arizona that I haven't seen.
After seeing the video, I asked my girlfriend's brother, Seth, if he wanted to join me. Seth and I had started mountain biking together around that time and he was an avid cyclist, so I figured this would be a great trip to do together. I told him I wanted to do this by my 30th birthday (I was 23 at the time) and he said "why not just do it as soon as possible?" I had a few big backpacking trips laid out over the next couple of years, but managed to clear out my 2018 schedule for the ride. Not long after, his older brother and adventure junkie, Kevin, caught wind of our plans and asked to join the gang. The three amigos bikepacking crew was assembled! The next step was researching the trail and seeing just what we would be getting ourselves into early April 2018...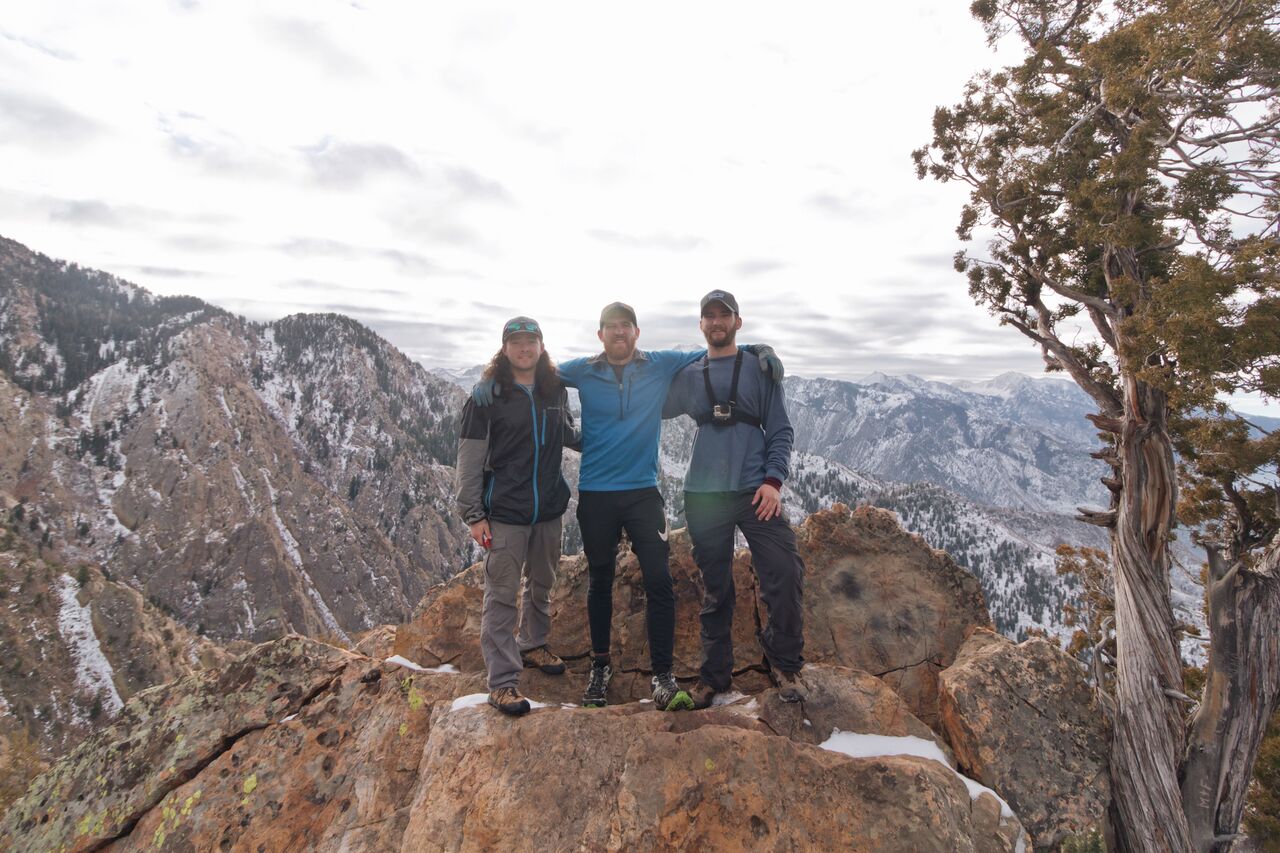 Kevin, Lee, and Seth near the summit of Mt. Olympus in Utah
The Trail
As mentioned above, The Arizona National Scenic Trail (AZT) stretches 800 miles across the entire length of the state to connect deserts, mountains, forests, canyons, wilderness, history, communities and people. This non-motorized trail showcases Arizona's diverse vegetation, wildlife and scenery, as well as unique historic and cultural sites. The route provides unparalleled opportunities for hikers, mountain bikers, equestrians and other trail users.
Typically, the trail is completed in a northbound direction, starting at the Mexican border and finishing at Stateline Campground in Utah. Being that this was our first bikepacking trip, and a long and grueling one at that, I made the decision to go the opposite way. I'm more familiar with the terrain and trail locations in Northern Arizona, so I wanted to feel more comfortable at the start of a journey that would be brand new to all of us. The second factor in opting for a Southbound (SOBO) traverse, was quite possibly the hardest part of the trail - The Grand Canyon.
The AZT crosses through the Grand Canyon, connecting the North and South Rims by the North and South Kaibab trails. These trails cover some 21 miles of canyon with anywhere between 4,000 and 5,000 feet of elevation gain depending on which direction you hike it. The biggest catch here is that bikes are NOT allowed to be ridden in the canyon. This leaves you with three options: 1) Take a roughly 200 mile pavement detour around the canyon, 2) Ship your bike on a bus to the other rim while you complete the hike, or 3) Break your bike down, attach it to your backpack, and hike the canyon with your steed in tow. Number 3 provides the most style points and is the most preferred way to knock "The Ditch" out in the endurance cycling community. Not wanting to shy away from a challenge and stay true to the spirit of the trail, hiking the Grand Canyon with a bike strapped to our backs was the method we would do (also, the North Rim is closed so any shipping services aren't even available in April!). Doing a SOBO trip would allow us to take on this big undertaking on our second day and put the hardest part of the trail behind us early.
Once you're through the canyon, the trail passes south into the Kaibab National Forest and spills you out in Flagstaff after skirting around Mt. Humphrey and the San Fransico Peaks - the highest point in Arizona at roughly 12,600 feet. Continuing on, we will pass Lake Mary and Mormon Lake on the way down to the Blue Ridge Reservoir. After that, we will do a challenging descent of the Mogollon Rim, a plateau that splits the Eastern side of Arizona in half. Dropping off of the rim and into lower desert elevation leads the excursion down to Roosevelt Lake and into the outskirts of Phoenix. Heading south once more, we will descend to the Gila River and make our way to the town of Oracle. Oracle Ridge is a brutal connector trail to the town of Summerhaven on top of Mount Lemmon, a 9,150 foot peak northeast of Tucson. Moving on from the mountain, we will pass through the Santa Rita Foothills, the towns of Sonoita and Patagonia, and through the Canelo Hills on the way to the Mexican border inside of the Coronado National Memorial. The mountain biking route bypasses a few wilderness areas off limits to bikes, but when it's all said and done, we will have covered between 750-800 miles and nearly 70,000 feet of elevation gain (2.5 times that of Mt. Everest).
I think it's healthy to have goals and dreams. Big ones, matter of fact. It lets you work towards something. It lets you free your mind and dream and escape reality from time to time when things get you down. I think it would be absolutely astonishing to complete this trail. There's over 7.4 billion people on this planet, and less than 80 people in the history of the AZT have completed it via bicycle. We plan on adding 3 more tallies to that list.
San Francisco Peaks outside of Flagstaff, AZ
The Plan
Three things would need to be done in order to make an expedition like this work: Research, gear prep, and training.
Research - I've been researching to the most minuscule detail everything I possibly could about this route over the past two years. Every April, hardened ultra endurance athletes compete in the AZTR300 and AZTR750, 300 and 750 mile races that take place on the Arizona Trail. A lot of these riders write up great blog posts that benefitted me greatly in getting this planned out. One rider in particular, John Schilling, has the most comprehensive information on riding every inch of the trail, and can be found here if interested. There's a lot more than meets the eye to planning something like this. It is a self supported journey, meaning we will not be getting aid out on the trail if needed. We will carry all of our gear, water, and food, only refueling in towns that we pass through every few days. A lot of the route is in the desert, where water is scarce and you have to know where available sources are at. For some portions of the ride, we might be in the wilderness for two days at a time, not seeing anyone or anywhere to refuel. This means being conscience of food and water intake, and planning our daily miles out accordingly so we are always a relatively safe travel distance from civilization.
Gear Prep - Being that I've never bikepacked before, figuring out how to carry all of my gear started off challenging, but I found a wealth of recommendations and reviews over at bikepacking.com. After researching a bit, I settled on mostly Revelate Designs and Bedrock Bag products to carry all of my stuff. These bags replace the classic pannier style bags that you might see mounted to road cycles out doing a tour. The saddle bag would carry my entire sleep system (bivvy, sleeping bag, sleeping pad, bag liner, and inflatable pillow). The handlebar bag would house all of my clothes (rain gear, extra riding jersey and bibs, sleeping clothes, socks, down jacket). Two cockpit bags would hold food, water, and bike tools. And last but not least, the frame bag would hold a water bladder, spare parts, and my camera gear. I'm bringing the camera gear along (DSLR, iPhone gimbal, drone) and some other accessories to help us document this entire journey, and I'm incredibly excited to share the film with you guys this summer!
Training - How do you train for something like this? Around 800 miles on a loaded mountain bike for roughly 2 weeks? There's no good answer other than to just ride and hike as much as you can. Pennsylvania in the winter time isn't exactly ideal for mountain biking, so Seth and I have been spinning as much as possible and getting out on the road bikes when the weather isn't bad. I've put more miles on my legs in the first two months on this year than I had in all of 2017. We get texts from Kevin, who lives in Salt Lake City (also experience winter and sub-optimal riding conditions), saying things like "33 miles on the spin bike sucks." But, miles are miles, and anything helps for conditioning. 800 miles seems daunting, but you have to compartmentalize the ride day by day in order to not stress yourself out over it. Instead of saying "wow, I have to ride 800 miles" you need to think "ok, we have to ride 45 miles today" and take it day by day like that. In late March, we did some overnight bikepacking through 6 inches of snow and mud to shakedown the gear and makes sure everything was riding right. We also spent some time finalizing our Grand Canyon portage backpack systems and it's looking like we're ready!
Below is a short podcast that I did with one of my best friends, Jon Anderson. He's training for the Pittsburgh Marathon on May 6th and we discussed endurance sports, training, and the mindset/mentality of tackling long distance sports.
Notes
To track our progress, you can visit the TrackLeaders AZTR2018 page. This tracker will go live when we start the trip and you'll be able to see our location in real-time.
We would like to thank our friends and sponsors that are helping out with this trip: HydroBlu (water filtration), Owayo (cycling jerseys), Club Prophet Systems (extended time off of work, thanks a TON!), Unc's Taxidermy (meal donations), and Coral Studios (media distribution).
The Arizona Trail Association is an amazing non-profit organization that maintains the AZT. They put an unbelievable amount of work into the trail and it's all made possible by donation and membership sales. If you are able, please visit their site here and consider joining or making a donation so that they can continue to keep this beautiful trail in tact for years to come.
I have a Google Voice number set up that anyone can call into while we are on the trail and leave words of encouragement. It's always nice to hear from friends and family back home while you're away, especially doing something as grueling as this. That number is (412) 423-8345, feel free to give it a buzz while we're out on the trail. *Messages may be used in the documentary*
Mentioned before, John Schilling is an absolute godsend in aiding riders with info for the AZT. I wanted to take the time to thank him for helping me out with some of the planning and for being willing to meet up with us in AZ to film an interview for my movie.
If anyone here has Strava and wants to follow along with my recorded rides (I will be tracking our AZT ride too), you can check my profile out here.
For an overview of what's in my bikepacking bags, head on over to this page and take a look. Video below as well with all the info: